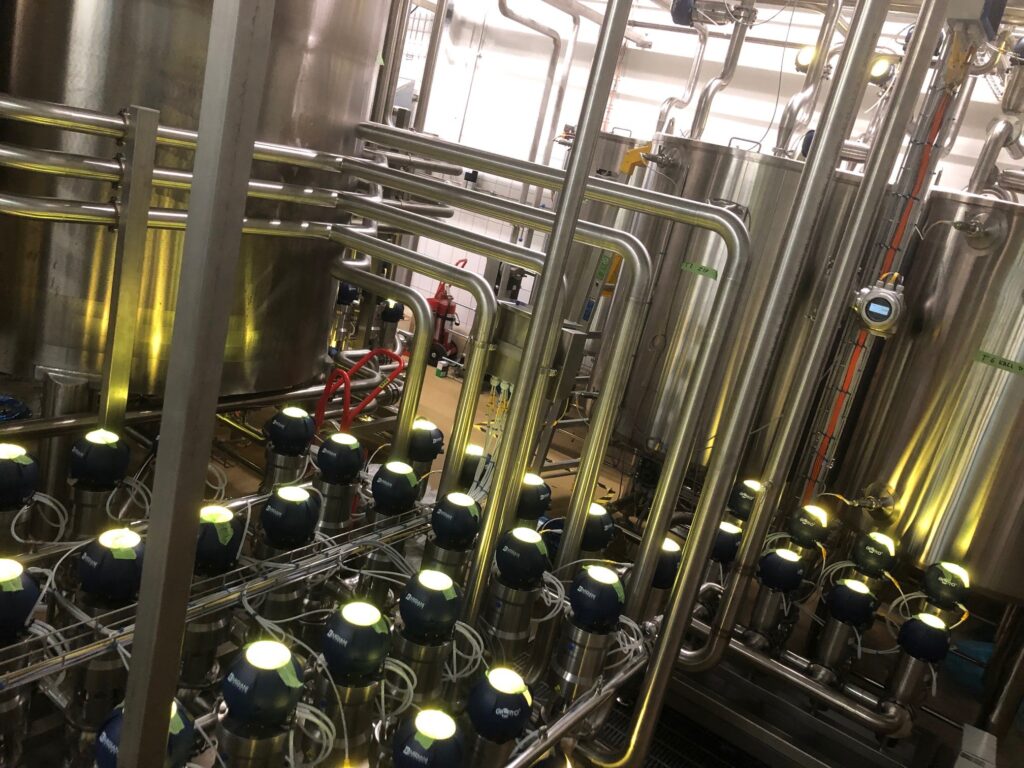 The assignment was to create a cost-effective investment with a high level of flexibility and improved food safety. The conditions for the assignment included optimising the use of energy, as the operating site's district heating supply had limitations in terms of both available output and temperature. The assignment also included optimising the use of water and chemicals in order to meet the client's sustainability goals.
The plant is comprised of 6 process tanks, 3 twin screw pumps from Telfa AB, 107 process valves of make Bardiani delivered by Colly Flowtech AB, of which 32 are mixproof seat valves, flowmeter instrumentation with Endress Hauser Promass I300, and a cleaning control centre. The plant is fully automated and flexible which means, among other things, that mixing, product delivery and cleaning can occur simultaneously. The process section is controlled by an object-oriented PLC program via SCADA with communication to a traceability server. Communication with process valves occurs via ASI. Communication to distributed I/O units, instrumentation and ASI nodes occurs via Profinet.
Qestio's delivery covered a pilot study including process design and analysis of OPEX and improvement opportunities, along with calculation of investment cost and validation of hygienic design. During the implementation phase, Qestio has been responsible for the preparation of function descriptions, project support in relation to procurement, project and installation management, CE-marking and verification of CIP. Through this project, the client will improve the work environment for staff, increase productivity and ensure a better level of quality, as well as creating optimisation and monitoring opportunities in the process and in relation to the client's raw material suppliers.