A mobile sampling station that can be used in connection with evaluation of municipal sewerage networks or industrial process wastewater. Examples of areas of application include the checking and evaluation of stormwater and urban runoff in infrastructure projects, or leachate at landfill sites and mining dams.
Qestio delivers standard modules that can be customised to the client's specific needs and wishes. The final solution could include needs analysis, process design and equipment delivery. The equipment is tailored to your specific needs, with the right flow and instrumentation. In order to achieve a short and cost-effective implementation process, the equipment is placed in a 20 foot container. All measurement occurs inline and continuously and may, for example, cover volume, flow, temperature, pH, turbidity and chlorine. We can also provide solutions for automatic, parameter-controlled sampling based on volume, flow and time. Batch samples can be divided into 12 different batches, with refrigerated storage of samples. The standard solution also includes monitoring and data collection for a cloud-based database with an online display and report tool. Naturally we can also tailor the monitoring and data collection solution to your specific needs and wishes.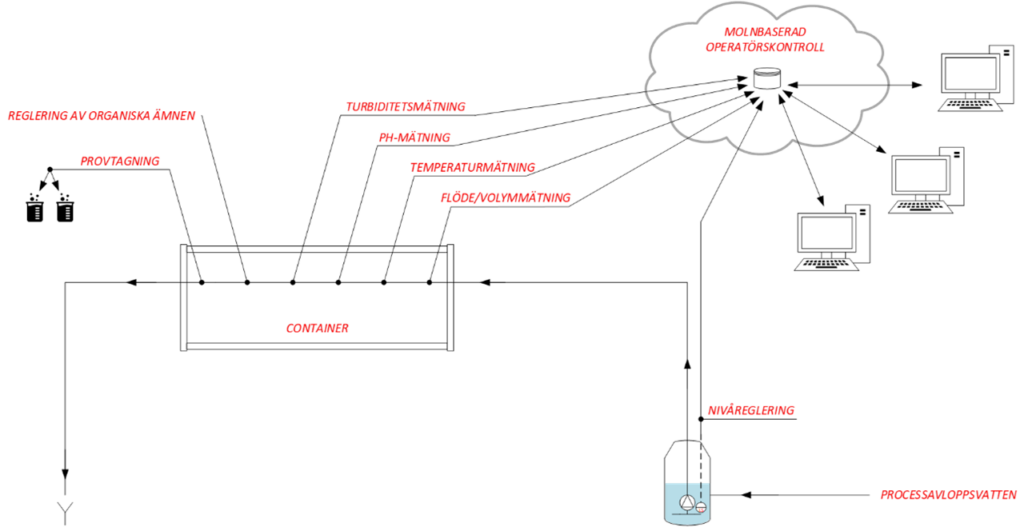 Qestio can assume complete operational responsibility including sampling, monitoring, sample management, analysis, evaluation and reporting.
Would you like to know more about how the team at Qestio can help you analyse the
potential savings in your production plant and support you in the implementation of
necessary changes? Contact us!
Our products